Header_Lyana-2
Blazing New Trails,
Together with You

Because you were there with us every step of the way in 2019–2020, our medical research and patient care teams were able to make big things happen, inspired by your drive and determination to improve the health of the children and mothers-to-be in our community.
Thank you for making a difference!
You Are the Reason Sainte-Justine Can Blaze New Trails
Dear Friends,
A year of big things has come to a close at the CHU Sainte-Justine Foundation – in terms of what our teams have accomplished and the challenges that have emerged because of COVID-19. Between pride and uncertainty, you have been there, guiding us every step of the way.
At this time last year, we were confidently embarking upon a new age in pediatrics: one led by precision medicine. Because of you, Dr. Gregor Andelfinger and his team have been able to save the lives of children like Lyana, who was born with Noonan syndrome; a chair dedicated to advancing research in fetal, maternal and neonatal health has been created; and key staff members have been hired, among them Dr. Caroline Quach-Thanh, a pediatric microbiologist, infectious diseases consultant and researcher.
Then the pandemic hit, bringing everything to a grinding halt. Except for illness which, as we all know, stops for nothing and nobody. While the rest of the province was on lockdown, many families still had to grapple with the news of a serious diagnosis requiring the singular expertise of the caregivers at Sainte-Justine.
The fact that so many of you have stuck with us as this storm has raged on touches us profoundly. And here we are today, stronger than ever. We know that, with you by our side, we can continue to blaze new trails and forge ahead to build a better, brighter and healthier future for our children. Thank you for being there for us!
Maud Cohen
CHAIR OF THE BOARD OF DIRECTORS
Jacynthe Côté
PRESIDENT AND CHIEF EXECUTIVE OFFICER
Joining Your Hearts Together to Protect Hers
Three-and-a-half-year-old Lyana is the only fair-haired, blue-eyed child out of seven siblings. She has a severe form of Noonan syndrome, a rare genetic disorder that affects one out of 2,000 children.
Her chances of making it to her second birthday were only 20%. But today, because of the faith you place in research, she is alive and will soon be 4.
The Rise of Precision Medicine
Every child is unique. No one set of genetic, physiological, medical and social variables is the same. Precision medicine is making the hope of better health outcomes more attainable than ever.
Wiskenly, 15 months old | © Alexandre Champagne
The ultimate goal? To evolve from the model of a single treatment addressing as wide a swath of patients as possible to one where each treatment is fully personalized to target individual needs. Sainte-Justine is currently at the forefront of this medical revolution. With your help, we know we can do even more. The progress made thus far is just the tip of the iceberg.
Thank You for Making Our Dreams of a Healthy Future Come True for Our Kids
What we have achieved this past year because of your generosity is a pledge to a future filled with hope for our patients and their families. On their behalf, we thank you for doing your part.
Where You Have Made a Difference :
Brain and Child Development
Joining Forces to Unravel the Mystery of Autism
Thanks to an outstanding contribution of $10 million from the Marcelle and Jean Coutu Foundation, Sainte-Justine has teamed up with several partners from the healthcare community to drive autism research forward.
Quebec 1,000 (Q1K) is a world-first research initiative spearheaded by some of the top scientific leaders in the province in conjunction with 1,000 families living with autism. The goal is to develop a comprehensive understanding of the various ways this condition affects each patient.
Q1K will put Quebec front and centre of international scientific advances in autism, which will in turn be instrumental in developing new therapeutic options and personalized treatments.
This is an exceptional collaborative undertaking that is bound to lead to exceptional progress.
When Support for Research Leads to the Discovery of Rare Genetic Diseases
In spring 2019, the work of Drs. Philippe Campeau, Jacques Michaud and Elsa Rossignol led to the discovery of two new neurodevelopmental diseases caused by mutations in a gene involved in brain development. This significant scientific breakthrough was made jointly with a group of researchers at McGill University.
This is one of the direct results of the commitment of Rio Tinto and Power Corporation, both key players in the creation of the Centre for Rare Genetic Disorders in 2015. This particular achievement speaks volumes about how much of an impetus their contribution has provided.
Donors like you who support medical research empower the teams at Sainte-Justine to acquire invaluable insight into rare diseases and develop better and more personalized treatments for the children living with them.
From Your Heart to Her Head
In May 2019, Megan was cured. And all because of the game-changing pediatric neurosurgery laser acquired by Sainte-Justine through donors' generosity. The seizures she had been having regularly since 2017 turned out to be due to a brain tumour that threatened to rob her of her eyesight.
After making a 4 mm incision, Dr. Alexander Weil and his team spent 10 hours burning away the tumour. Megan was back home 24 hours later, with zero side effects.
FROM YOUR HEART TO HER HEAD
2020
Fetomaternal and Neonatal Pathologies
Your Impact from Birth to Adulthood
On November 18, thanks to the outstanding dedication of the Sainte-Justine Circle, our teams celebrated the creation of the Sainte-Justine Circle research chair focusing on the development origins of pathologies, which will study the health of teens and adults born prematurely.
"The progress made in the past 10 years is enormous," said Dr. Anne Monique Nuyt, the chairholder and head of neonatal medicine. As proof: in January 2020, the Canadian Medical Association Journal announced that the survival of preterm babies in Canada rose by a staggering 25% between 2004 and 2017.
Your support will help her team keep exploring the frontiers of medical knowledge, hone practices in preterm and maternal care, find the best possible courses of treatment adapted to individual needs and, ultimately, prevent health problems at birth.
Pushing the Boundaries of Fetomaternal Medicine
Thanks to the outstanding support of donors like the Pathy Family Foundation, the Centre of Excellence in Fetomaternal Medicine continued to make huge strides in this field during the year.
The team now has access to a prenatal screening program for women whose genetic history indicates a risk of their baby being born with a rare genetic disorder.
Sainte-Justine also produced a documentary series entitled Revenir les bras vides, in partnership with Canal Savoir Média, to help parents living with perinatal grief as well as those carrying a baby with serious health problems that threaten their chances of survival outside the womb. In Quebec, nearly 23,000 families lose an infant every year.
Thank you for continuing to watch over the babies and families at Sainte-Justine, even when the unimaginable happens.
Emmy: A Tiny Life Saved In Utero, Thanks to You
Only 20 weeks into her pregnancy, Marie-Pier learned that her baby had a type of pleural effusion known as chylothorax. In other words, the baby's thoracic duct had not formed properly, and her lungs and heart were compromised as a result. This condition is often fatal. They needed to take immediate action.
Thanks to donors like you who make it possible to acquire specialized instruments, Emmy underwent fetal surgery at 22 weeks' gestation. They carefully inserted a needle into her chest cavity to place two shunts that would drain the fluid and let her organs develop unhindered.
Emmy was born full-term 16 weeks later, on October 30, the picture of health.
A TINY LIFE SAVED IN UTEROS
2020
Immune Diseases and Cancer
Easing Pain During Treatment: You Make It Possible
The discomfort associated with some of the procedures performed on pediatric cancer patients is all too frequent and all too daunting. But thanks to the launch of the Rel@x program, funded by donors like you, healthcare professionals have access to a whole arsenal of tools to prevent episodes of pain and alleviate the anxiety that often comes with them.
Members of the nursing staff have been trained in the basics of clinical hypnosis, a leading-edge and scientifically proven method for controlling cancer pain. They are also working to improve how they communicate with each child in an age-appropriate way. And the impacts of these efforts have been enormous.
In addition to making treatment that much easier for children and their families, you are enabling these teams to demonstrate the benefits of innovative pain management techniques and share them with other healthcare professionals in Quebec and elsewhere.
At the Forefront of Cancer Immunotherapy, Thanks to Your Support
Recruited in 2018 by the CHU Sainte-Justine Research Centre and backed by a start-up grant to which you have generously contributed, Etienne Caron, PhD, is hard at work advancing immunotherapy to treat cancer.
Why do only some patients experience positive long-term benefits from this type of therapy, which has otherwise revolutionized the world of oncology? What kinds of medical technology need to be developed for children who are resistant to existing treatments? These are but a few of the questions that are being looked into by his team as well as other experts around the globe.
Professor Caron's expertise in mass spectrometry, a technology whose oncological applications are very promising indeed, is paving the way to a new understanding of cancer – and is generating a great deal of buzz in the scientific and medical community. Thanks to your generosity, a cutting-edge mass spectrometer was recently acquired by Sainte-Justine. Currently the only device of its kind in Quebec, the spectrometer will make it possible to identify the molecular fragments vital to the development of cancer vaccines with a high level of accuracy.
© Le Pr Etienne Caron, à droite, et son équipe.
I am so proud of my team! For the past two years, we have recruited some incredibly talented people and I'm convinced that, together, we'll go far. Not only for patients here in Quebec, but also for those all over the world.
Pr. Etienne Caron, researcher
RESEARCH CENTRE OF THE CHU SAINTE-JUSTINE UNIVERSITY HOSPITAL
Personalized Treatment for Zackary's Leukemia (Thank You!)
Zackary has acute lymphoblastic leukemia. He has been a patient at Sainte-Justine's oncology department since June 2019.
Did you know that your support is why he can receive therapy adapted to his condition and the progression of his disease? Zack has responded well to treatment thus far, which means less time in the hospital, less aggressive chemotherapy, and fewer and less severe side effects.
This is yet another example of the benefits of precision medicine, which you are helping to develop.
A STAR PLAYER
2020
Musculoskeletal Health, Rehabilitation and Medical Technologies
Specialized Speech Therapy Tools
Thanks to the amazing support of Opération Enfant Soleil, patients receiving treatment at the CHU Sainte-Justine Marie Enfant Rehabilitation Centre (CRME) for a brain injury have access to state-of-the-art tools throughout their rehabilitation journey.
An example of this is the acquisition of speech therapy materials, including standardized tests to assess the ability of Francophone and Anglophone patients to speak, write and communicate in social situations.
For patients with brain injuries that have had an impact on their speech, various iPad accessories will be added to the existing selection to accelerate progress in communication.
Every year, the CRME sees 5,000 children. Thanks to you, they can receive innovative, highly specialized care, backed by the best in technology and medical equipment. Thank you for being there for each and every one of them!
A More Human Approach to Rehabilitation at the CRME
Young patients admitted to the CRME's intensive functional rehabilitation unit (URFI) now have access to the tremendous benefits of a second multisensory device known as the Snoezelen Mobile, which was acquired through the incredible generosity of donors like you.
The mobile nature of the device makes it possible to provide young patients with the stimulation they require right in their hospital room. Throughout their rehab session, they can explore smells and sounds, sight and touch. The Snoezelen Mobile can also help promote relaxation or distraction during otherwise painful procedures, such as intense massage, and is therefore greatly appreciated by patients and caregivers alike.
The unit has been designed specifically for use for target groups, including those with an intellectual disability or who are on the autism spectrum, burn victims and patients with head trauma. It promises to deliver compelling results for many years to come. Thank you for helping us humanize care at Sainte-Justine!
Clara: A Story of Resilience
Clara has fibrodysplasia ossificans progressiva or FOP – a condition sometimes referred to as stone man syndrome. It is a rare genetic disease in which muscles, tendons and ligaments are gradually replaced by bone.
There is no cure for FOP at this point in time. But your generous support in funding the cutting-edge equipment at the Marie Enfant Rehabilitation Centre will help her maintain her mobility as long as possible.
Clara, A Story of Resilience
2020
Infectious Diseases and Acute Care
Advanced Technology Driving Critical Care
Did you know that 12,000 young accident victims are treated at Sainte-Justine every year? For them, every second saved by using state-of-the-art medical technology puts them one step further ahead on the road to recovery.
Thanks to the support of the Sainte-Justine Private Schools Youth Challenge, the team at the Centre of Excellence in Trauma Care is on the verge of acquiring a new piece of technology to optimize the work of clinical caregivers and facilitate the transfer of inpatients to the Medical Imaging Department (SIM).
This highly anticipated acquisition will ensure that all infusion pumps are compatible with the SIM environment. As a result, medical procedures will be faster and there will be less risk involved in transferring medications from one pump to another.
Supporting excellence in trauma care means supporting life at its most vulnerable.
You Are Fuelling Our Researchers' Ideas
Thanks to you, startup funding has been directed to star researchers to get their laboratories underway and complete critical exploratory work.
Pediatric microbiologist and infectious diseases consultant Dr. Caroline Quach-Thanh is one of those researchers. In 2018, your support made it possible to recruit her to Sainte-Justine and allocate a two-year startup fund for her research projects to prevent infectious disease.
Dr. Caroline Quach-Thanh | © Benjamin Seropian
In recent months, Dr. Quach-Thanh has been very much in demand to discuss COVID-19. In addition to these pandemic-related issues, she shares her time between her patients and her research into immunization against infection and a better understanding of the associated risk factors. She is also working on ways to ward off hospital-acquired infections and prevent antibiotic resistance among vulnerable populations (preemies, patients with compromised immune systems and those with cystic fibrosis).
Your Support Has a Snowball Effect
By providing the impetus for the innovative ideas of the researchers at Sainte-Justine, you make it easier for them to obtain the additional public funding so critical to achieving their goals.
Since her arrival at Sainte-Justine, Dr. Quach-Thanh has been awarded over $5 million in public funding and was named a distinguished research scholar by the Fonds de recherche du Québec – Santé (FRQS).
Big thanks to all of you who are empowering our elite researchers to write the first lines of some amazing stories.
Thank You for Paving the Way for Mateo's Recovery
Mateo has come a long, long way. In August 2018, when he was just 15, he fell 18 feet into a high-voltage area in an abandoned building. He became engulfed in flames as 25,000 volts shot through his body.
An extended stay in the intensive care unit, four months in the hospital and many more months of rehab awaited him. The list of teams at Sainte-Justine and the state-of-the-art facilities involved in his recovery is an impressively long one. And the reason both were available to Mateo at all was you and your support.
#scarredforlife
2020
Metabolic and Cardiovascular Health
Cell Therapy: A New Hope for Understanding and Curing Tyrosinemia
Forty years ago, children with tyrosinemia, a rare hereditary disorder that is particularly common in certain areas of Quebec, weren't expected to live past the age of 10. But for the last 25 years, a revolutionary drug has given patients back their lives with only a few side effects.
Your ongoing support is why Sainte-Justine, continues to be a leader in tyrosinemia. Thanks to you, the teams headed up by Drs. Grant Mitchell and Massimiliano Paganelli were able to dig deeper during the year and gain more insight into this metabolic disorder. They now hope to build on this knowledge to develop cell and gene therapies that will improve treatment outcomes and eventually eradicate the condition altogether.
Camille and Her Three Hearts
At only 13, Camille has already known life with three different hearts.
She was born with dilated cardiomyopathy, a degenerative condition that affects her heart's ability to pump blood. Last year, the situation became critical, and Camille was put on the organ transplant waiting list. A new heart was her last hope.
Thanks to the wonderful support of donors like you, Sainte-Justine is equipped to implant a revolutionary ventricular assist device known as the Berlin heart in young patients like Camille while they wait for a suitable donor organ. Over the past 15 years, this small but mighty device has saved hundreds of lives. For 20 days, it kept Camille's blood pumping until she received her "real" heart in April 2020 – the one that would get things back on track.
Camille and Her Three Hearts
2020
A Legacy of Love
Elvira Mariotti's relationship with Sainte-Justine began 25 years ago, when her weeks-old daughter Giulia was transferred to the hospital.
Giulia had cerebral palsy. She returned regularly to Sainte-Justine over the years for specialized care and follow-up. Sainte-Justine was a kind of home away from home, her mother would later say, after Giulia's death at age 14. The experience inspired Elvira to make a provision for the CHU Sainte-Justine Foundation in her will.
I want to leave something lasting behind in my daughter's memory. A legacy that means the children who pass through Sainte-Justine can feel confident that they are in good hands and to ensure the hospital remains a supportive space for families, be it in terms of the overall atmosphere, the state-of-the-art facilities or the staff. When I think back to the time we spent there, what I remember most is that positive emotion.
Elvira Mariotti
Ever year, like Elvira Mariotti, many of you decide to incorporate a profoundly human dimension into your planned giving strategy. This year, in your honour, Sainte-Justine unveiled the Jardin Céleste, a place of awe and wonder that celebrates this spirit of generosity. Our heartfelt thanks go out to you all!
In Good hands
2020
Together, in Support of a New Generation of Doctors
More than two decades ago, the physicians at Sainte-Justine took steps to actively invest in the hospital's educational mission through personal investments to the Academic Fund.
This past year, they donated a record $2 million plus, an amount that has been increased by the Foundation's other donors, representing more than $2.5 million for the training of up-and-coming medical professionals. It brings the total awarded to more than 500 fellows since 1998 to close to $22 million.
This scholarship program, made possible by pairing doctors' donations with those from other major donors to the Foundation, is the only one of its kind in the country. It provides an unequalled opportunity to homegrown talent to develop their specialty abroad and to bring in the best and the brightest from around the world to contribute to Sainte-Justine's mission. To date, no fewer than 28 academic funds supported by 500 physicians have been established to support the next generation of pediatric practitioners.
Thank you to the physicians and major donors, including the J.A. DeSève Foundation, who support this initiative year after year. As a result, Sainte-Justine's doctors, present and future, will be equipped to provide the best possible care to children and their families.
Twenty Years of Support Gor a New Generation of Doctors
2020
The Power of "Together"
In March, the cancellation of our events until at least December 2020 forced us to launch an unprecedented appeal to the community to step up and help meet Sainte-Justine's urgent needs. The target: to rally 50,000 front-line donors together in support of this initiative.
To date, more than 20,000 donors have heeded the call. This spirit of generosity and community has been the wind beneath our wings during these difficult times, inspiring us to redouble our efforts to back the life-changing work done at Sainte-Justine.
© CHU Sainte-Justine
As a front-line donor, you have shown your support to the caregivers and families at Sainte-Justine who are grappling with various forms of illness in the midst of this pandemic.
Your donations are the lifeblood of the vital force that is medical research, which is helping to do battle against COVID-19 and other serious conditions for which Sainte-Justine is a respected authority.
Because there's no pause button when it comes to being sick – and there never will be. And because a better, brighter and healthier future for our children is contingent on everyone pulling together in the same direction. Thank you from the bottom of our hearts!
Amid the pandemic that has upended our lives, our routines and the way in which we deliver care and services, we must never forget the importance of continuing to invest in the innovation and technology that will allow us to develop the medicine of the future.
Caroline Barbir
PRESIDENT AND CHIEF EXECUTIVE OFFICER
CHU SAINTE-JUSTINE
Le CHU Sainte-Justine: A Leader in Pediatric Medicine, Here at Home and Around the World
EN-Statistique-Institution-centenaire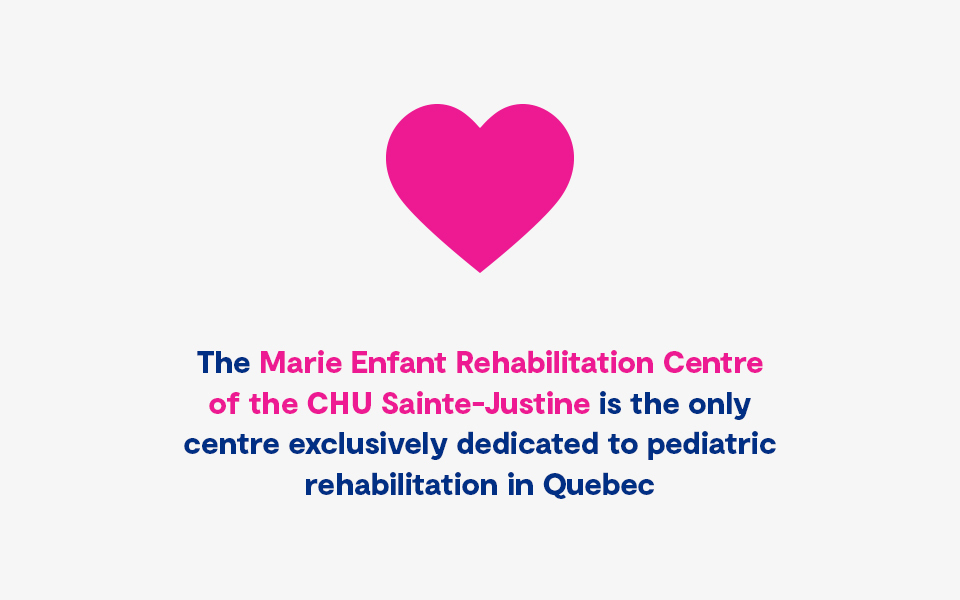 EN-Statistique-centre-marie-enfant (1)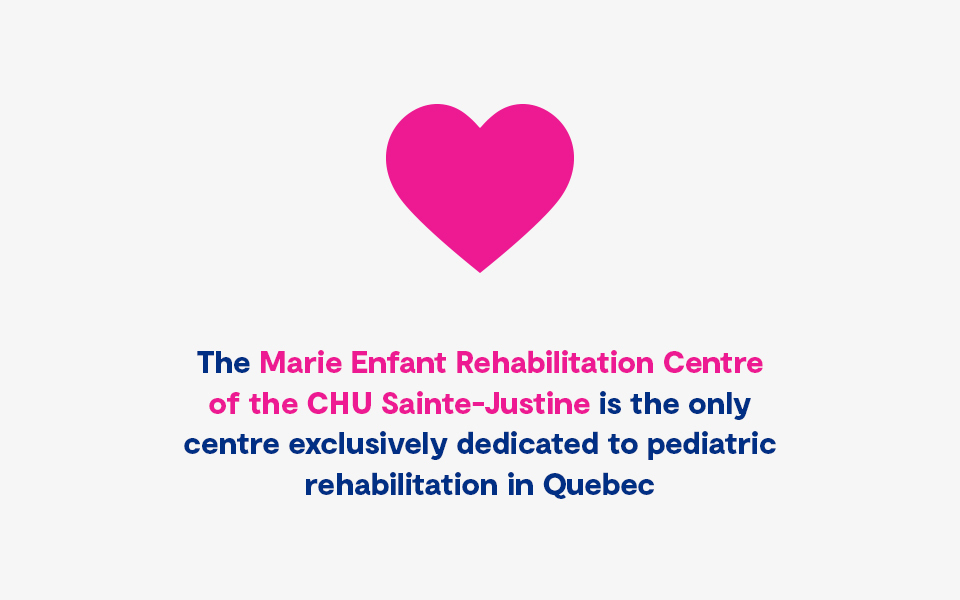 EN-Statistique-accouchements-grossesse
EN-Statistique-employes
EN-statistique-plus-important-centre-hospitalier
EN-Statistique-recherche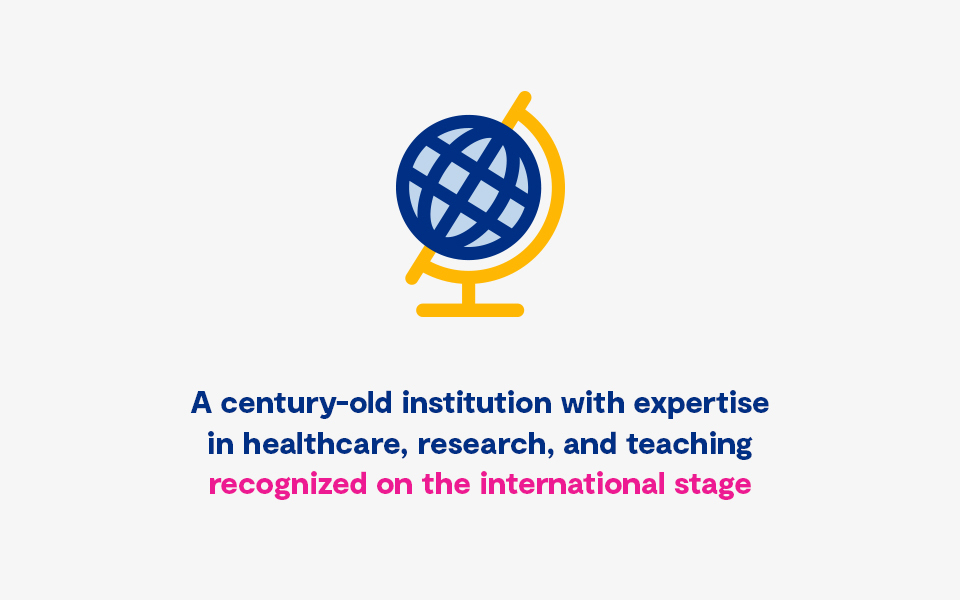 EN-Statistique-Institution-centenaire-en-2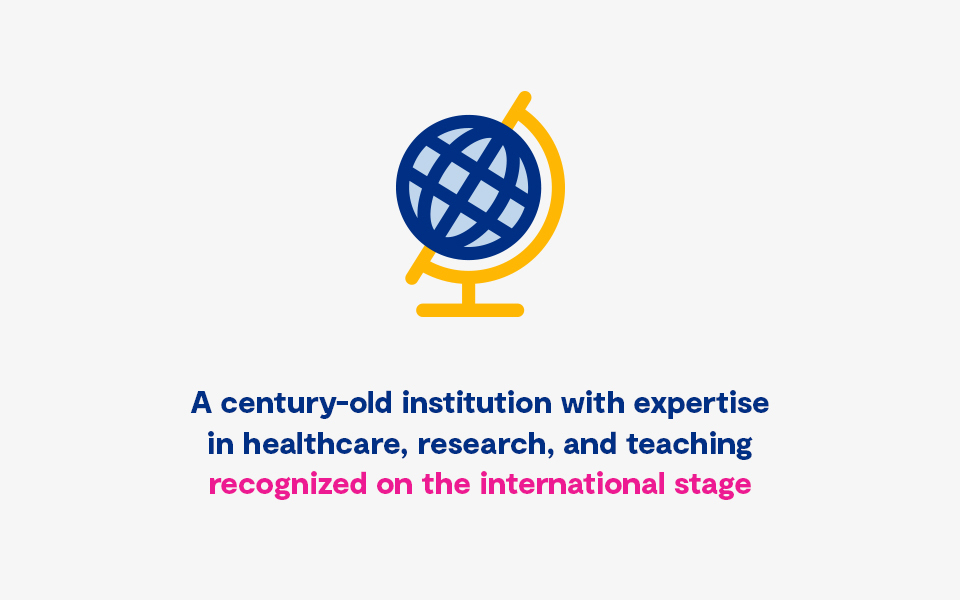 EN-Statistique-pedriatres-quebecois
Financial Snapshot: A Collaboration-Filled Year
Every donation dollar received by the CHU Sainte-Justine Foundation is invested with the greatest care, integrity and transparency. All funds are put to the best possible use in line with Sainte-Justine's most pressing needs.
In the final tally, more than $29 million was directed to Sainte-Justine during the year to continue to transform the future of children's health. This remarkable contribution was backed by a number of exceptional partnerships between various institutions along with an unrivalled wave of public support.
Together, we are stronger. And you have definitely proven this adage true once again this year. Thank you, one and all!
2019-2020 X vous
Behind each of your names is one life-changing accomplishment after another. One step closer to a dream. New scientific breakthroughs. Key talent recruited to Sainte-Justine. A much-anticipated return home. With you behind us, we have the power to move mountains. Your generosity helps us blaze new trails forward. And that means the world to us. And to them.
Thank you for making a difference!